Desmond Tutu has developed an African variant of personalism through the African concept ubuntu – and through his struggle for justice, peace and reconciliation.
Desmond Tutu (born 1931) is a South African human rights activist and retired archbishop who became famous worldwide for his nonviolent resistance to the apartheid system.
Desmond Tutu (født 1931) er sydafrikansk ærkebiskop og menneskerettighedsaktivist, som blev verdenskendt for sin ikke-voldelige modstand mod apartheid.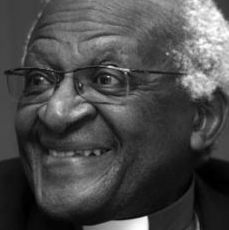 Desmond Tutu was born in Transvaal, but his family moved to Johannesburg when he was twelve years old. He first trained to be a teacher like his father and taught for some years. He then went on to study theology. In 1960 he was ordained a priest in the Anglican Church, and in 1986 he became the first black archbishop of Cape Town. He is an honorary doctor at a number of universities in the US and Europe and has received many international prizes.
The commission was to map the human rights violations that had taken place during the apartheid regime and, something more revolutionary, attempt to bring about reconciliation among the population groups.
Tutu stresses heavily the value and dignity of humans on the grounds that we are created in the image of God. For this reason he had to fight against an apartheid regime that denied the equal worth of humans. He has subsequently entered the struggle against other forms of injustice and oppression, using nonviolent means, with peace and reconciliation as the ends.
Tutu has formulated an African version of personalism, using the concept of Ubuntu. Ubuntu is an ancient African concept that expresses the way in which humans depend on each other.
"We are different in order to know our need of each other. To be human is to be dependent. Ubuntu speaks of spiritual attributes such as generosity, hospitality, compassion, caring, sharing. You could be affluent in material possessions but still be without ubuntu. This concept speaks of how people are more important than things, than profits, than material possessions. It speaks about the intrinsic worth of persons as not dependent on extraneous things such as status, race, creed, gender, or achievement."
More about Desmond Tutu
The Desmond Tutu Peace Centre: www.tutu.org